Lillywhite Guides , Lillywhite Companions, Lillywhite Annuals.
A lot of Wisden collectors also collect Lillywhite's , I have a few of them and here is our guide to Lillywhite's , any questions, please ask. wisdens@cridler.com
A link to our spares are at the bottom of this page.
There are three series of Lillywhite's starting with the rarer guides then into the Companion and finally the more common Annual. They cover cricket from 1848 to 1900.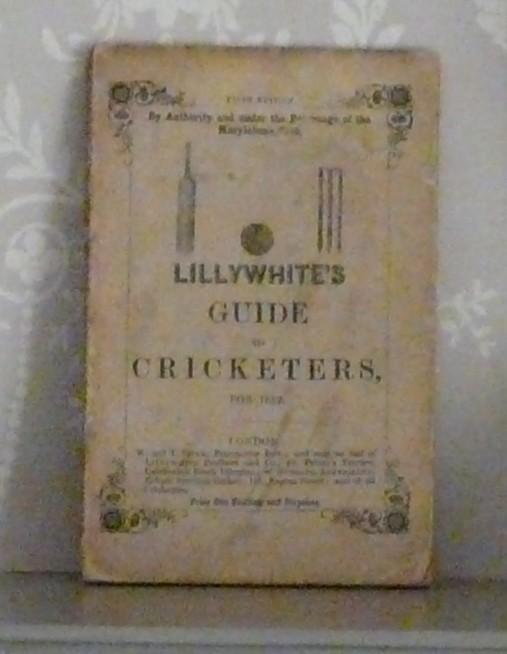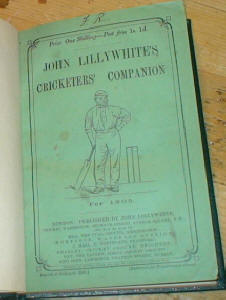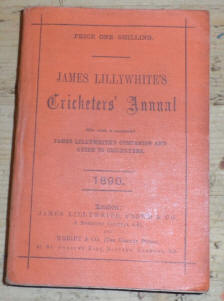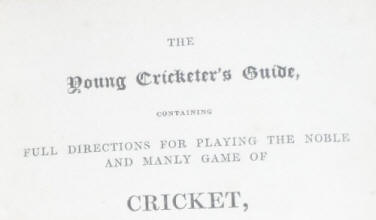 Guides (Fred's Guide)
The Guides were the first series, published between 1849 & 1866.

Fred Lillywhite (Aged 19) Edited the Guides until his death in 1866 (@ 37). He fell out with the MCC in 1865.

It was called "The young cricketer's guide, containing full direction for playing the noble and manly game of cricket by William Lillywhite" (The

"Nonpareil" or father of Fred who was the youngest of his 4 )

T

he first 2 editions, it was then called "

Lillywhites Guide to Cricketers by Frederick William Lillywhite"

Although 24 editions it only covers 15 seasons, as more than 1 edition some years, they are not uniform like Wisden and so the Guide to the Guides by Smith is very helpful

The first two E

ditions are very rare and worth (ten+) thousands, the second edition is the same as the first but with an errata slip within it.

The 6th Edition is the rarest and 5 figures will be needed to buy it. Padwick wrote it out by hand as he couldn't find a copy.

Other hard to find editions are 9 and the last "one" ["one" in quotes because the last 2 are near identical both and both hard to find].

All guides are worth hundreds. Some Thousands and the rare ones over Ten Thousand.

The second edition is identical to the first, apart from an Errata slip between pages 6 & 7. (Alternation of Law VII).

1850 has cloth covers.

1853, 6th Edition has blue wrappers and a pink sheet (William Lillywhites fairwell benefit) within, my pink sheet is very faded the wrappers fade too.

Only a handful of full sets are known, I own 21/24.
From the Christies Sale on 5th November 2014 the following facts were picked up:
1) Winter 1863 Guide, 17th Winter Edition , Smith 18, it is the 18th Edition but the 18th Edition is crossed out and 17th Printed above it. Smith did not deem this worthy of a new number. So it is 18B in the Hancock set.
2) Editions 9 & 13 have blue half slips within them.
3) Wood engraved plate of Lillywhite in editions 8,9,10,21.
4) 10th edition has blue advertising leaves.
Companions (Green Lilly)
The Companions, The Green Lillies started in 1865 and ended in 1885

One book per year here, called the Green Lilly as the covers are green.

The Green Lilly absorbed the Guide in 1867

1865 is very hard to find and worth £1000

Most Greens are under £100 but 1860s & 1875 tend to break this.

Called initially "John Lillywhites Cricketers Companion" .John was an umpire , batsman and older brother of Fred. In 1880 the title was expanded to John and James Lillywhite's Cricketers Companion and then contracted to James Lillywhite's Cricketer's Companion in 1883.
Annuals (Red Lilly)
Ran from 1872 to 1900 and called the Red Lilly due to the red covers. (Covers are harder than the Greens)

Incorporated the Green Lilly in 1886.

From 1876 it has a picture inside that have been removed in cases as at one time the picture would fetch more at auction than the book itself!

Edited by Surrey Secretary Charles Alcock (*)

Called " James Lillywhite's Cricketers' Annual

Nephew of Fred

1872 is hardest to find at around £300

Most Red Lillies are under £50, 1870s are the hardest to find. 1875 like in Wisden was my last annual to be found.

1872 has 3 editions, it states it on the title page. The first 2 have 174 pages, the third 181.

1873 has 2 editions one containing an errata slip.

1875 has 2 editions, one states America, the other Australia in the contents

1884-6 have 2 editions and West believes 1895 does too.
(*) Charles Alcock also edited John Lilywhite's Football Annual in 1868 which was called The Football Annual from 1869 to 1908 and look like the red lilly. Let me know if you own any of these! (Thanks Mike for checking my notes and Andy for the Alcock info).
We have a Lilly distribution list , please reply if you would like to be part of it. Or if you have any questions.
We have some Lillywhite's for sale, in fact more than anyone else on the internet, please see the link below to our store on the www.wisdenauction.com platform:
http://www.wisdenauction.com/catalog.asp?catid=471&sortpref=price_desc
Happy Collecting.
Chris Ridler.